Market Trends
High Level Real Estate Trend – October 2018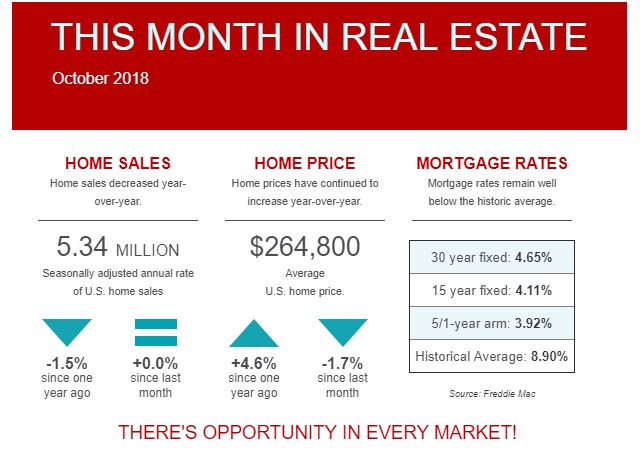 October 2018 Market Update
| | |
| --- | --- |
| According to the National Association of REALTORS®, existing home sales remained steady in August after four straight months of decline. In parts of the country, potential buyers seem ready to step back into the market with a moderate rise in housing inventory. | |
Interest Rates
| | |
| --- | --- |
| According to Freddie Mac, 30-year fixed rates increased to 4.65 percent in August from 4.53 percent in July. The average commitment rate for all of 2017 was 3.99 percent. | |
Home Sales
The National Association of REALTORS® reported home sales at a seasonally adjusted annual rate of approximately 5.34 million homes during the month of August. This number did not change from July, but decreased by 1.5 percent from August of last year.
Home Prices
The median home price decreased to $264,800 in August, which was down 1.7 percent from July and up 4.6 percent from August of last year. The median home price has increased by approximately $11,700 in the past year alone.
Inventory
There was a 4.3-month supply of housing inventory in August, which has been stable since July. The total number of available homes for sale has increased by 2.4 percent compared to August of last year.

Brought to you by KW Research. The opinions expressed in This Month in Real Estate are intended to supplement opinions on real estate expressed by local and national media, local real estate agents and other expert sources.